The conference will be held at the beautiful campus of Radboud University Nijmegen. All conference events will take place in the Elinor Ostrom Building of the Nijmegen School of Management.
Elinor Ostrom Building
Heyendaalseweg 141
6525AJ Nijmegen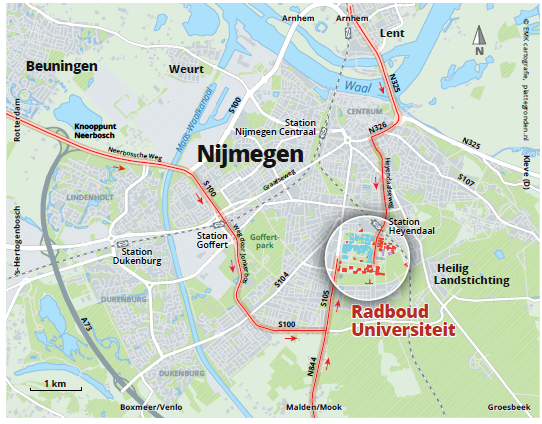 Directions public transport
Our campus is easy to reach by public transport. 
From Nijmegen Central Station
Line 10, 12 - get off at the Erasmus Building stop.
From Nijmegen Heyendaal station
Line 10, 12 - get off at the Erasmus Building stop.
OV-chip card recharge point
At the main entrance of the University Library (Erasmuslaan 36) you will find a charging point for the OV-Chip card.
Directions by bicycle
Radboud University and Radboudumc are easy to reach by bicycle. Cycle south from the centre of Nijmegen city centre, along St. Annastraat or Heyendaalseweg and you will reach the campus after about 15 minutes. Parking spaces for bicylcles are available under the Elinor Ostrom Building.
Directions by car
Radboud University and Radboudumc are easy to reach by car. Our campus is signposted on all mayor ways in and around Nijmegen. 
Parking spaces
You can park at any of the university buildings, except at the Erasmus, Spinoza and Maria Montessori Buildings. Click here to see where the parking spaces and parking garages are located on campus. We reccommend you park under the Elinor Ostrombuilding (Gymnasion car park, P7b).
Parking fees
Paid parking is available on campus between 7.00 am and 6.00 pm. The first 30 minutes of parking is free of charge. After this, parking costs €2.00 per hour; the maximum daily rate is €10.00 per day. You can pay your parking fees with your debit card, credit card or any other type of contact-free payment method. Cash payment is not possible.
Disabled parking facilities
If you are looking for disabled parking facilities on campus, you can click here to see where all of the disabled parking spaces are located.